25th January 2008
Corporate Viewing Event.

Shannonside Astronomy Club asked to provide a viewing night
by The Limerick Clarion Hotel at the penthouse balcony.
Frank and Dave attended and showed the hotel guests the pleiades star cluster, Mars and Jupiter.
25th February 2008
AGM
After a very productive and positive A.G.M. this April,
it is our great pleasure to finally be able to post up the
newly elected 2008 committee.


Chairman: Stephen Gleeson
Proposed by; Dennis O Mahony
Seconded by; Mike Dee.

Secretary: Frank Ryan
Proposed by; Dave lillis
Seconded by; Simon Kenny

Treasurer: Mike Dee & Dennis Mc Carthy
Proposed by; Joe Mc Carthy
Seconded by; Frank Ryan

PRO & Library: Simon Kenny
Proposed by; Dave lillis
Seconded by; Frank Ryan

Webmaster: Mikkel Bo Rasmussen
Proposed by; Dave lillis
Seconded by; Frank Ryan

Observing Director: Dave lillis
Proposed by; Conan
Seconded by; Frank Ryan

IFAS Reps: Dave lillis & Frank Ryan
Proposed by; Conan
Seconded by; Stephen
4th April 2008
Club observing session held.
SAC members have discovered an ideal observing site located in the Burren.
The area is well isolated and the sky is very dark. Two observing sessions have been held there already.
The site location shown on Google maps
5th May 2008
Club observing session held.
The May bank holiday weekend saw SAC members observing from the new site in the Burren again.
7th June 2008
Club observing session held
Club members went to the club observing site at Boher.
Frank Ryan took some nice pictures of the Noctilucent Clouds (NLC) they saw. Post and see pictures here.
7th July 2008
Club Members attend the Greek 'Mt. Parnon Starparty'
Club members Dave Lillis & Frank Ryan Jr travel to Greece to attend the Mt. Parnon Star Party.
See the report here.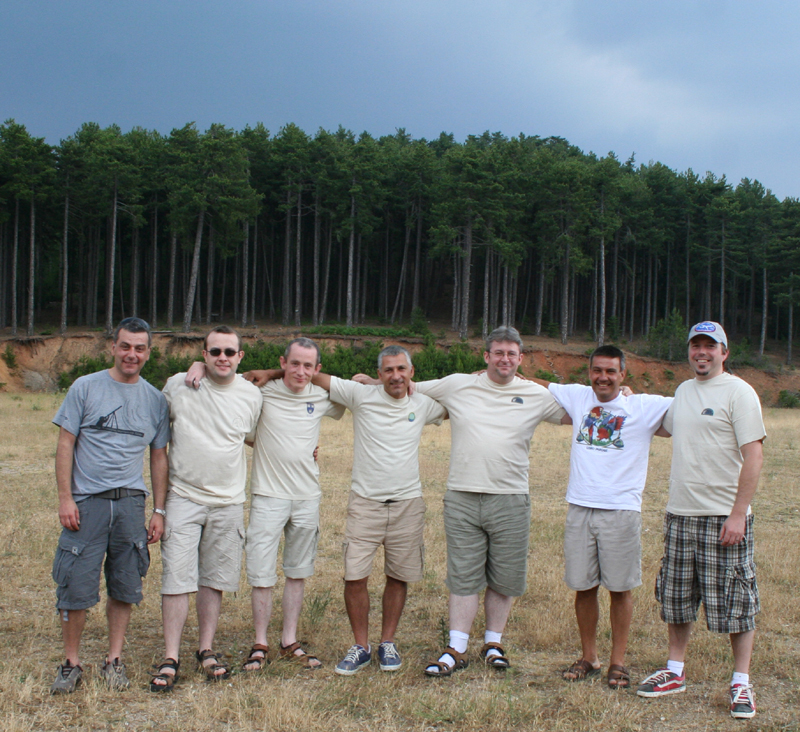 1st August 2008
Club Members Observe Solar Eclipse in Siberia.

Club members Dave Lillis & Frank Ryan Jr travel to Siberia to observe the Total solar Eclipse on 1st Aug.
Read the report here or Limerick Leader article here.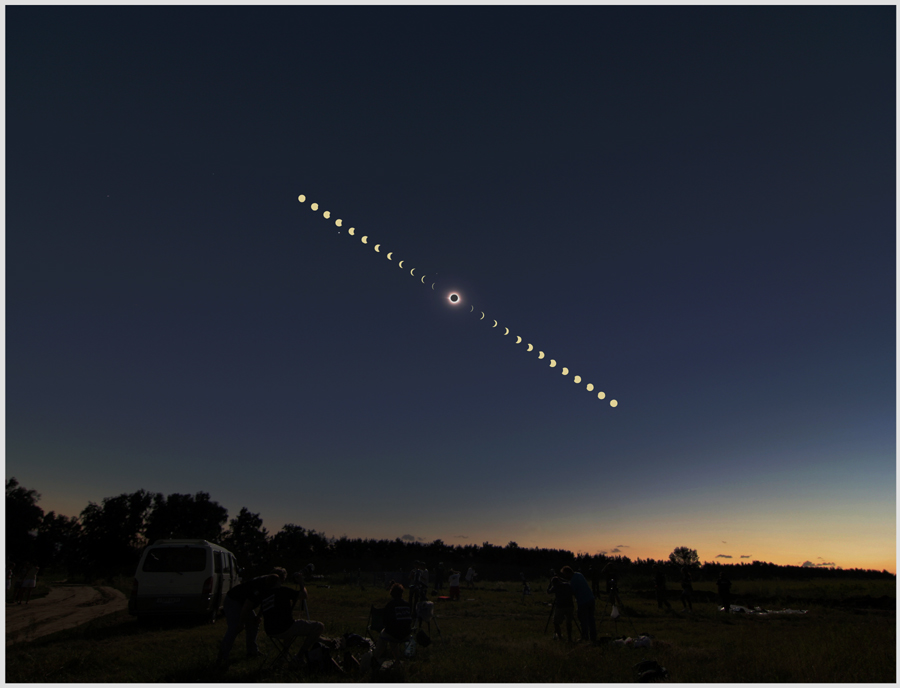 Click here for a slideshow of the eclipse progression (flickr).
29th September 2008
Whirlpool Starparty 2008 Success.

The annual Shannonside Astronomy Club 'Whirlpool Starparty' took take place in Birr, Co. Offaly
on Friday 26th, Saturday 27th & Sunday 28th of September.
Report on the 2008 Whirlpool Starparty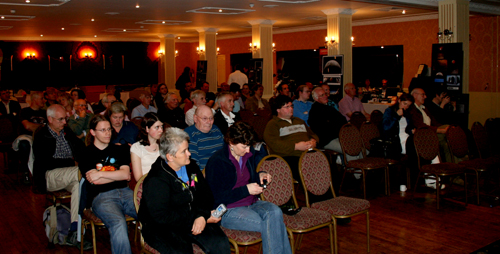 Chairman of IFAS, Terry Mosely, made a presentation to Dave Mcdonald in recognition of his discovery of an asteroid,
the first discovered from Ireland in over 100 years.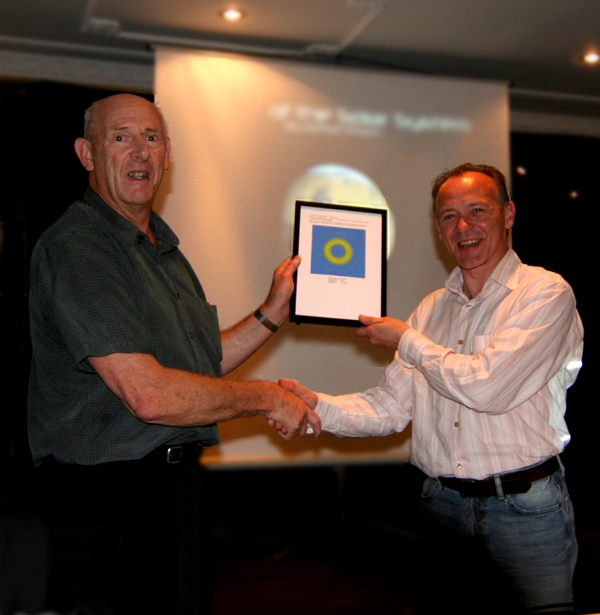 The discovery was made by at his observatory J65 from Celbridge, Co. Kildare
on Tuesday 9th of October. Designated number 2008TM9 Dave hopefully will get the right
to name his new discovery.
September 2008
Another Successful Club Observing Session

Recently some club members spent a night under the fantastic skies of the Burren
Read the report and see more photos here.
The International Space Station streaks across the sky in the Burren between the setting Moon and Jupiter.
5th November 2008
Club Meeting with guest speaker Deirdre Kellighan.
Deirdre giving her talk at the SAC Nov meeting. Thanks again to Deirdre for coming down to do both the talk for the club
and school talk at St Pauls NPS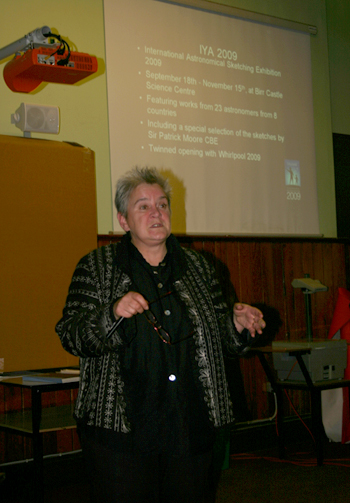 15th November 2008
Shannonside Astronomy Club at UL Science Week.

We were delighted once again to participate in Science Week by having a stand at the
event run by UL. Interest as always was high at the stand and it was a non stop day of questions & answers
with many new members signing up. We are looking forward already to next years event.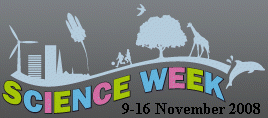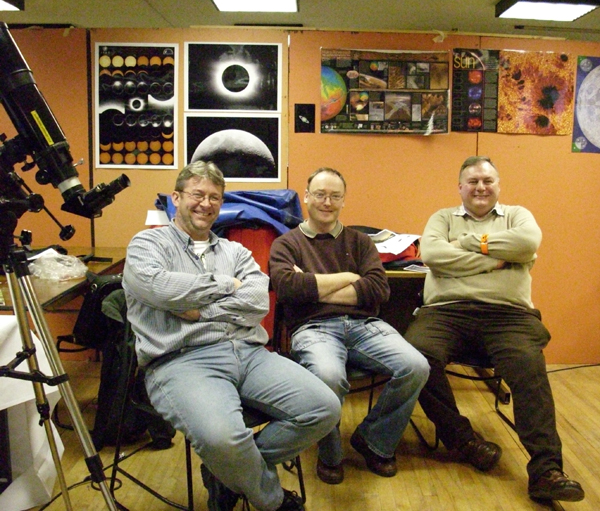 Pictured here at the stand in UL are L/R:
Dave Lillis - observing director, John O Mahoney - council member & Stephen Gleeson - club chairman.
Picture by Simon Kenny - club PRO.
5th November 2008
Club meeting with club speaker John O' Mahony.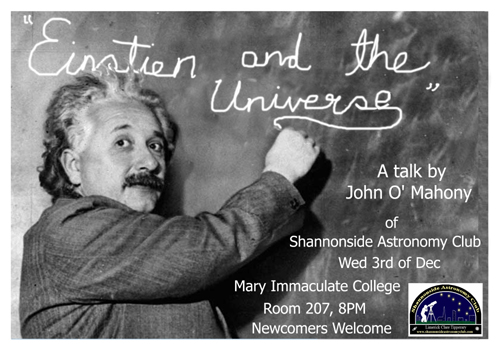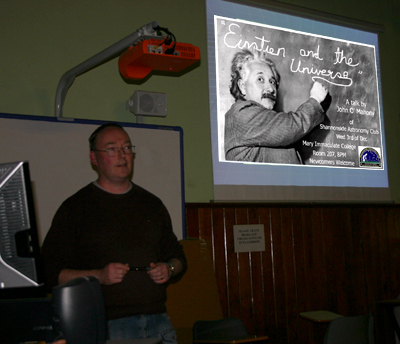 Many thanks to John for giving a very interesting talk on the discoveries and theories of Einstein
at the December meeting.
23rd December 2008
Christmas Night Out.
We are well and truly into the festive season now and therefore
no better time for a club get together!
All existing and past club members are invited to come along to Kennedy O Brien's Pub
in Limerick City on Tuesday the 23rd of December at 8 PM for an informal get together
and bit of craic. Merry Christmas & See you there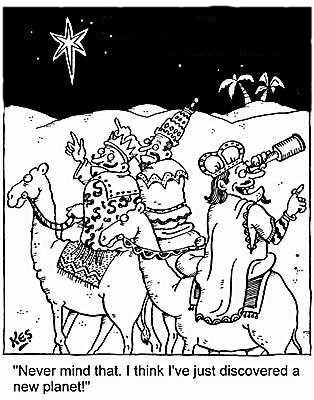 27th December 2008
Observing session Saturday 27th December 2008
Our mid winter observing session so to speak..
More here