12th January 2012
Club Observing Session/Meeting
The club held this years first meeting with an observing session looking at Jupiter from the grounds of Mary I college. It was very well attended with over 20+ club members there, using the clubs telescopes we all had a good look at Jupiter and the 4 Galilean moon along with the great red spot !
Many thanks also to Roy and Shea for bringing their 8" Celestron SCT and 4"Borg refractor, we also had a look at several deep sky objects such as the Orion nebula.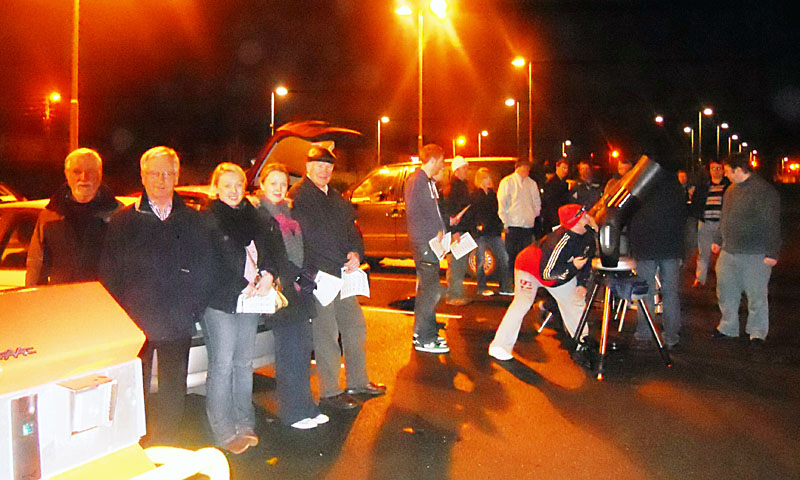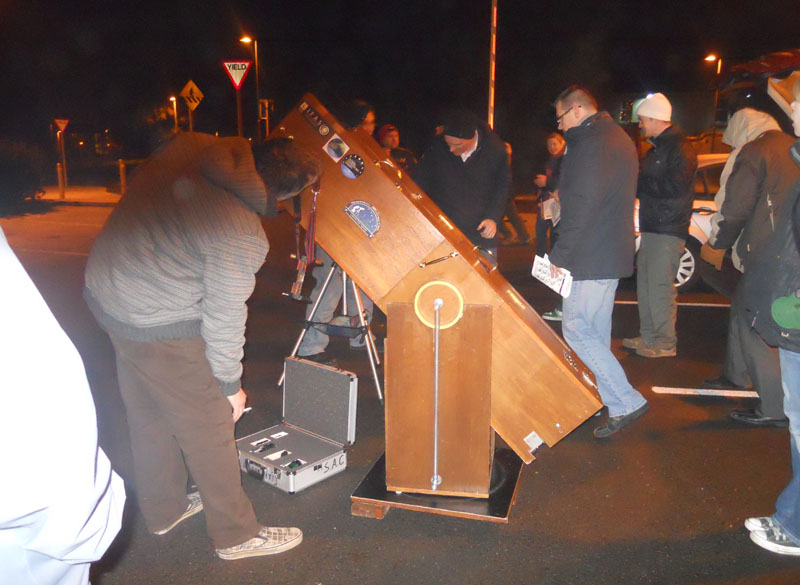 27th January 2012
Club Observing Session
Conan kindly donated his back garden for a club observing session in Adare co Limerick. Those who were early were treated to a real treat with Venus, the crescent Moon and Jupiter forming a line in the western sky. Those at the end of the night observed Mars and Saturn rising in the east., for more click here.
31st January. 7th, 14th, 21st February 2012
School Visits
The club gave a series of 4 talks to the Crescent Comprehensive School in Limerick, It was primarily aimed at 4th year transition year students with a view to promoting astronomy and raising public awareness of the club. This was run by the clubs PRO, Roy Stewart with Gerry Garvey, Shea Morrisey and Simon Kenny.
If you know of a school that would be interested in a visit by the club, please contact Roy Stewart, see the contacts page for his details.
2nd February 2012
Club AGM
Club held its annual AGM, which involved the election of the clubs committee, financial report and AOB.
See contacts for the new committee members
10th - 11th February 2012
European Astrofest in London
Gordon and Dave headed over to the European Astrofest in London for the weekend. It consisted of 2 floors of astronomy related shops and general lectures. See the discussion on our bulliten boards, click here. For more information on the event, click on European Astrofest
"Right click" and "view image" on any of the images to enlarge..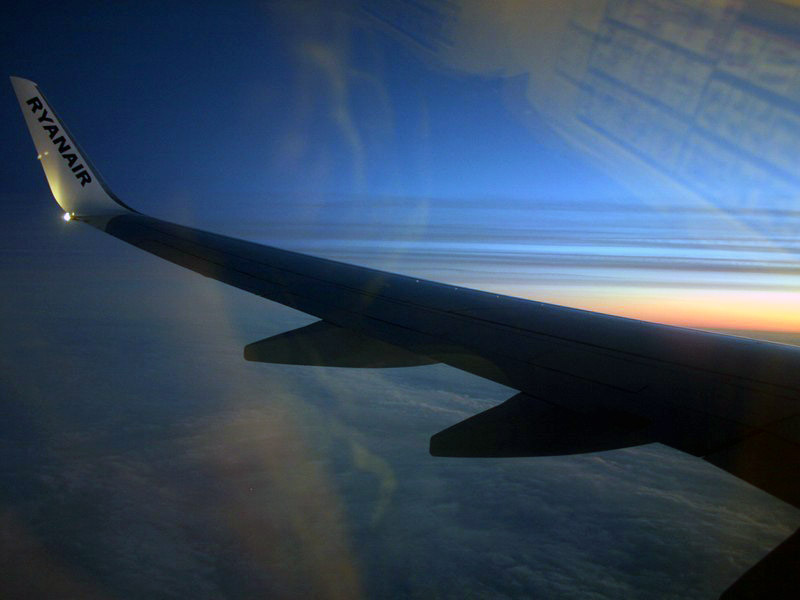 We arrived to a snow filled Stanstead airport in the early hours of Friday morning.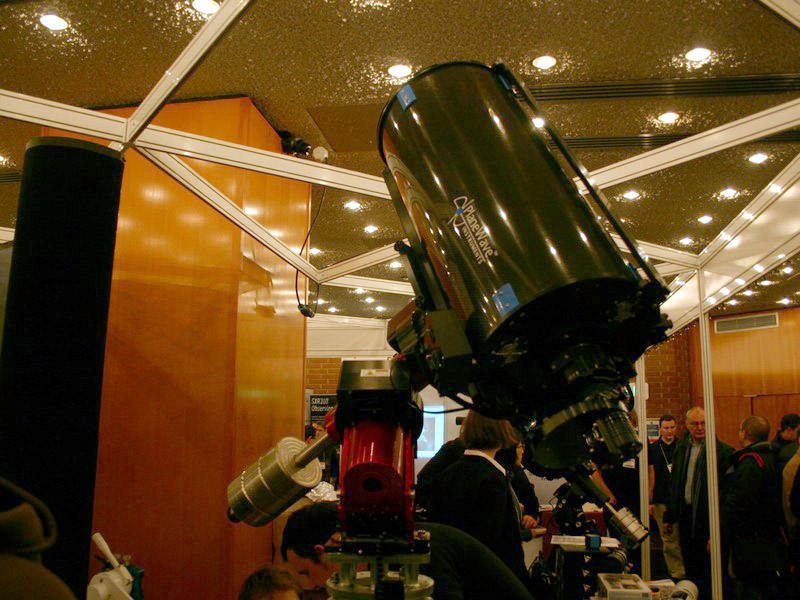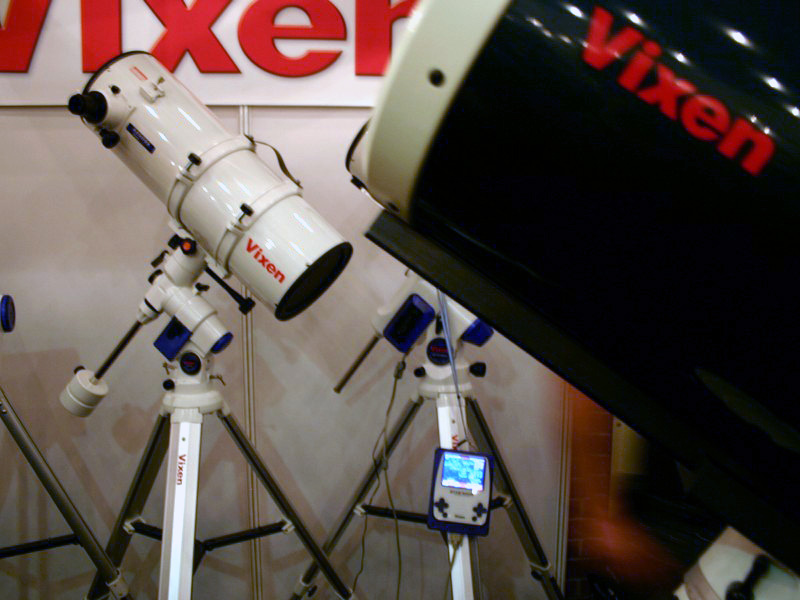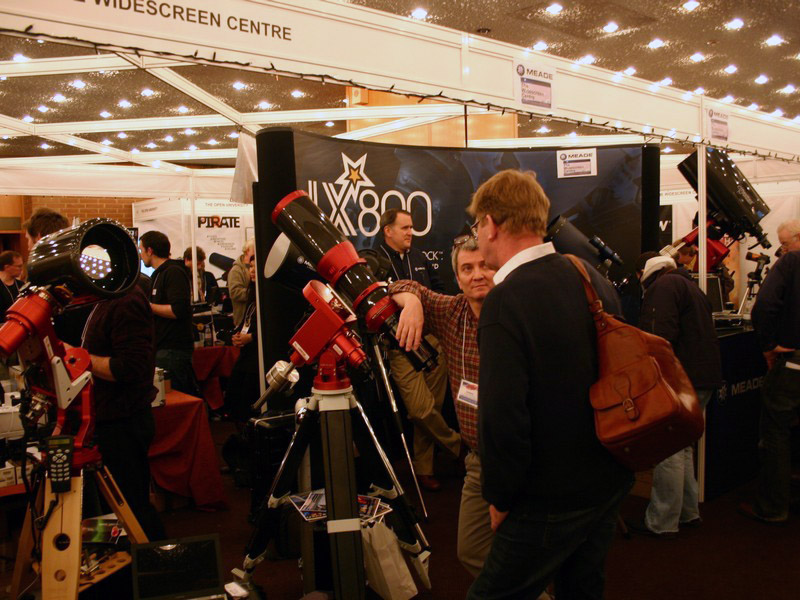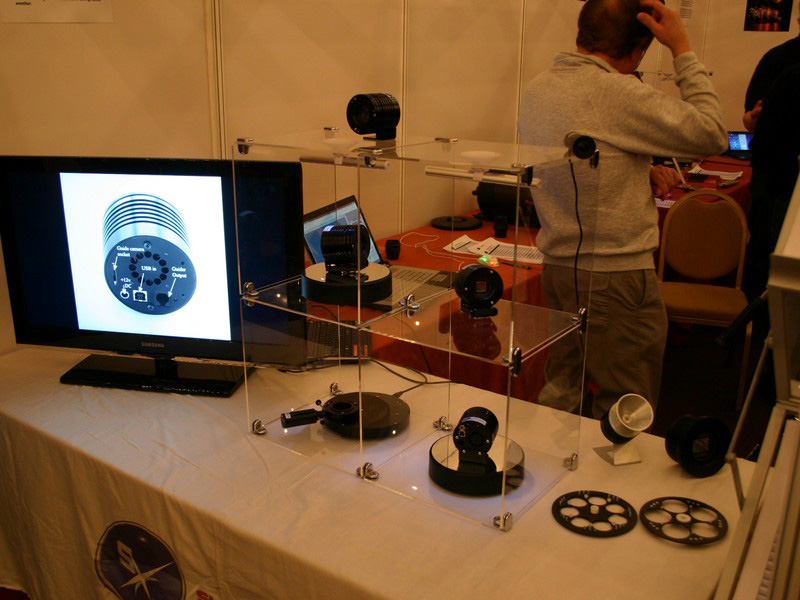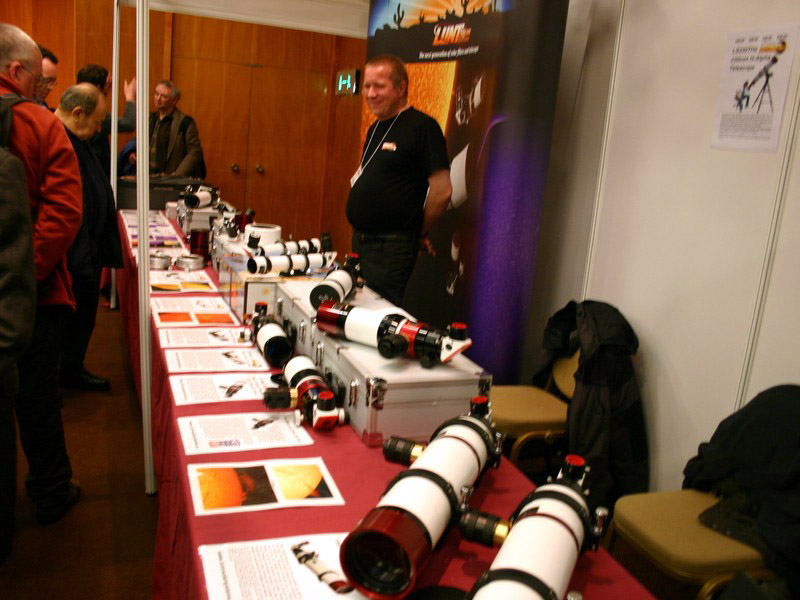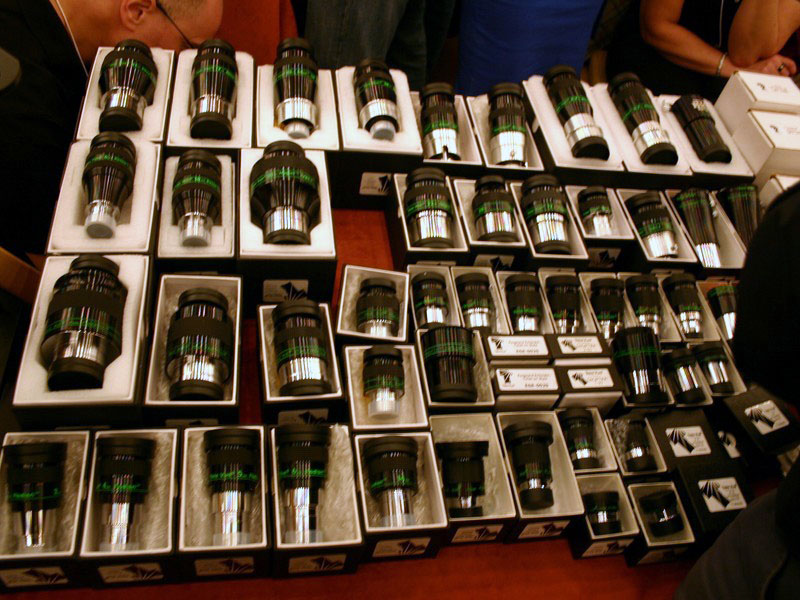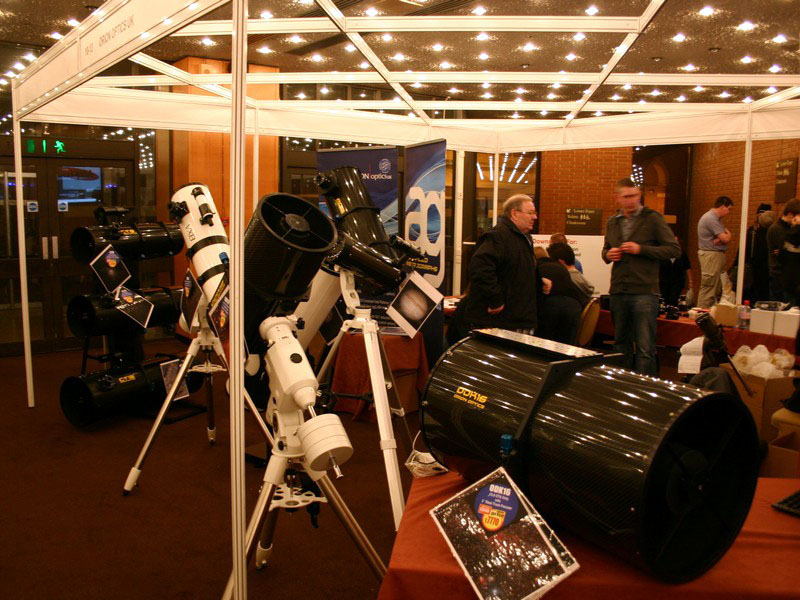 Dave meets Mr Nagler and the "family", Gordon weighing up the odds of getting this scope on the flight back as hand luggage.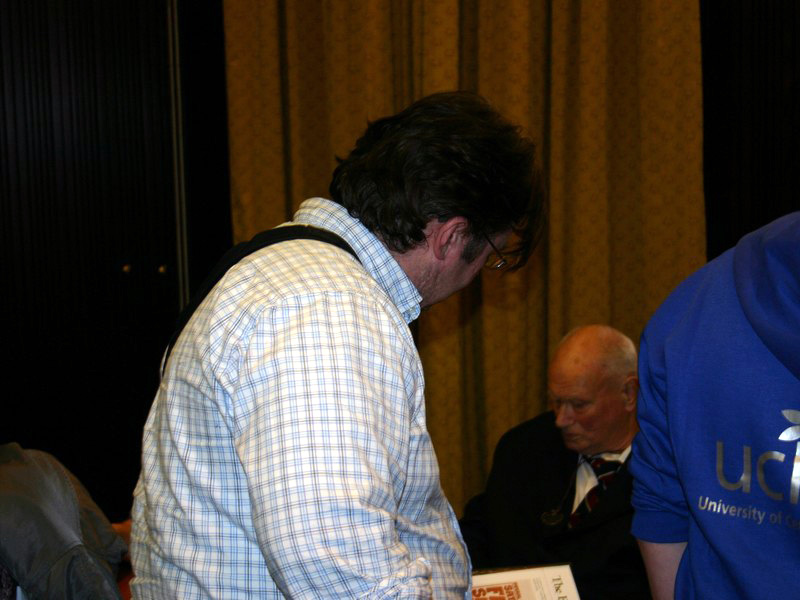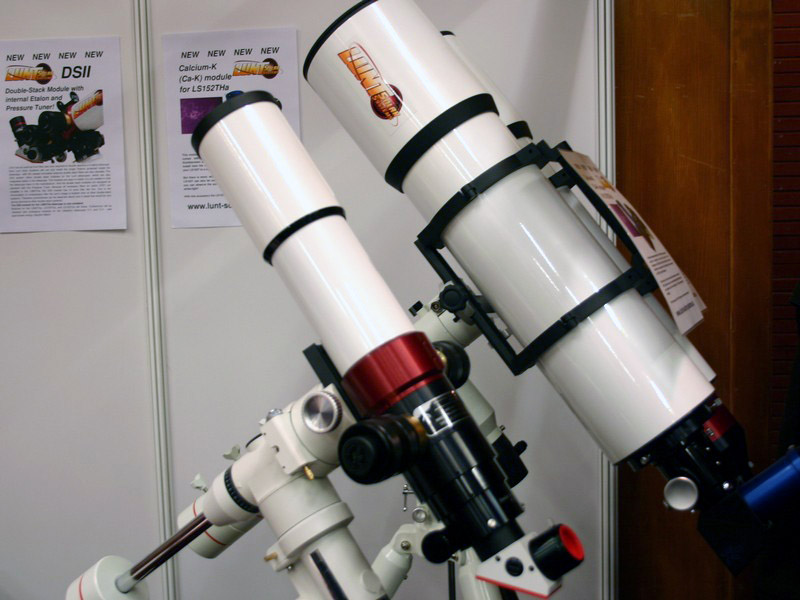 Dave meets John Mason, Patrick Moore and Brian May in the book signing event.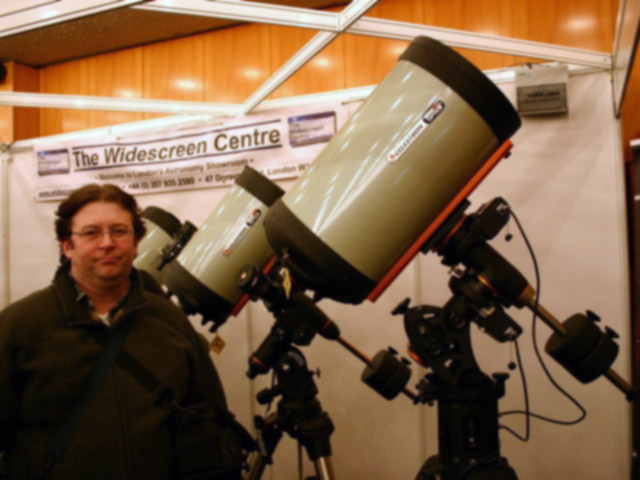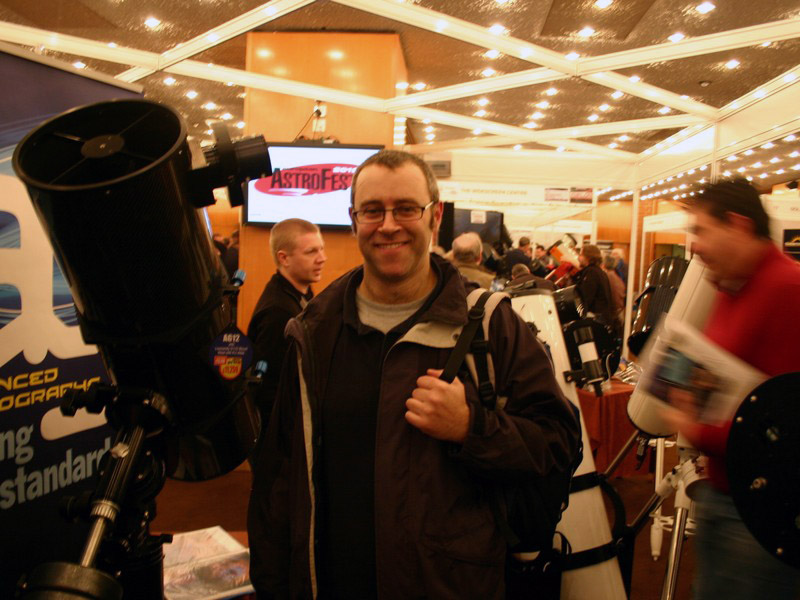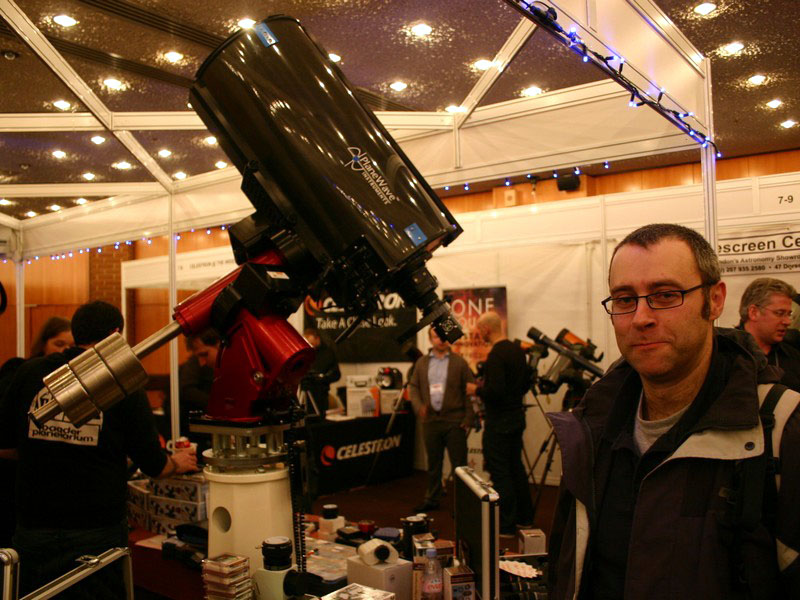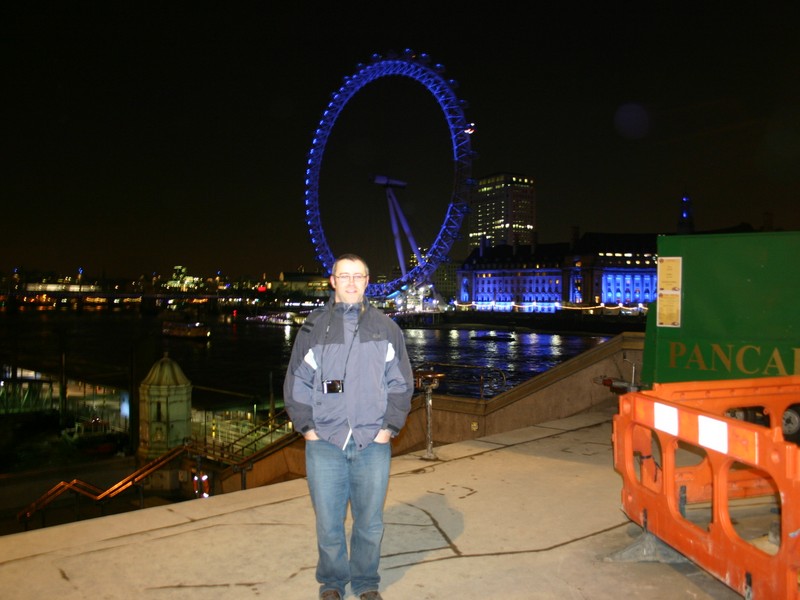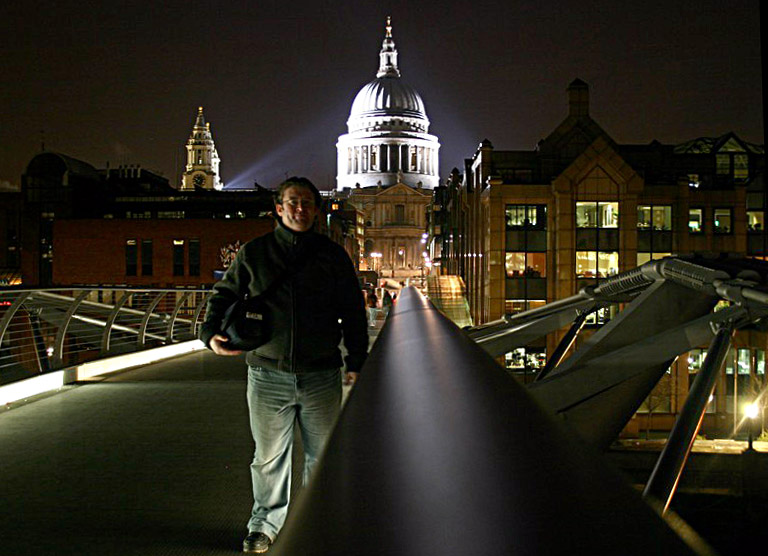 Gordon and Dave take in the sights in London city center in the minus 8 celsius Friday night.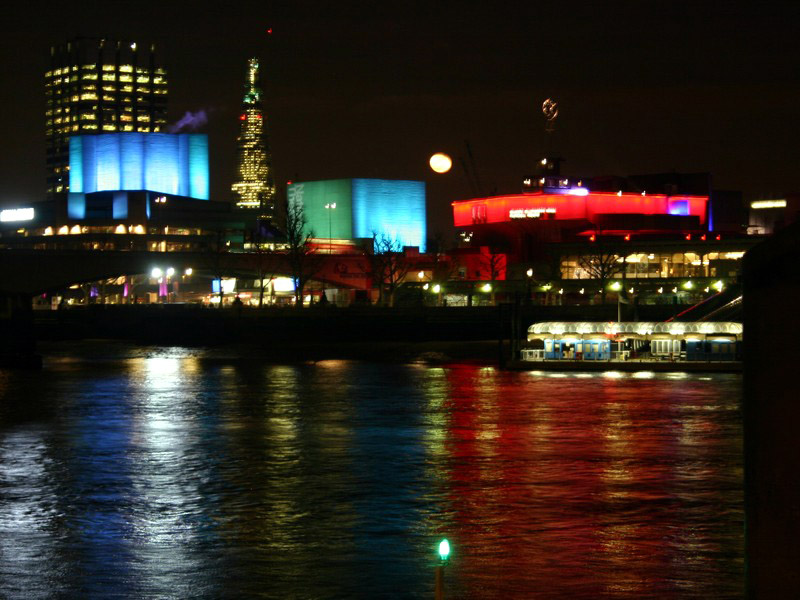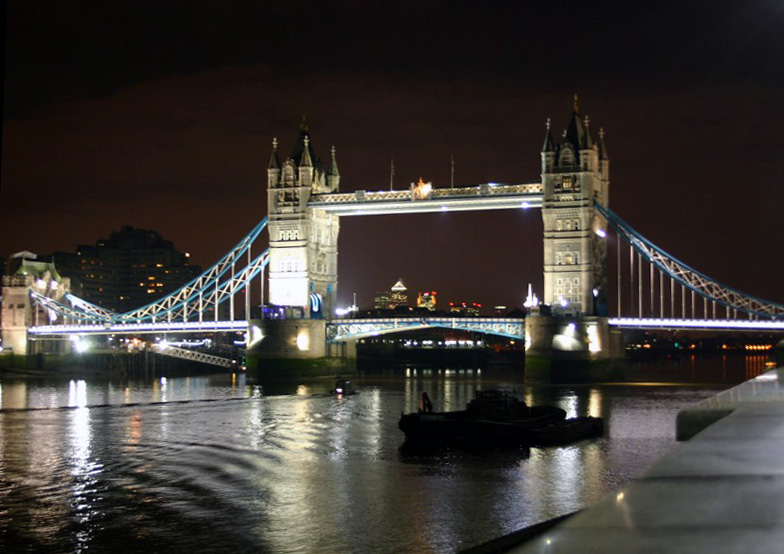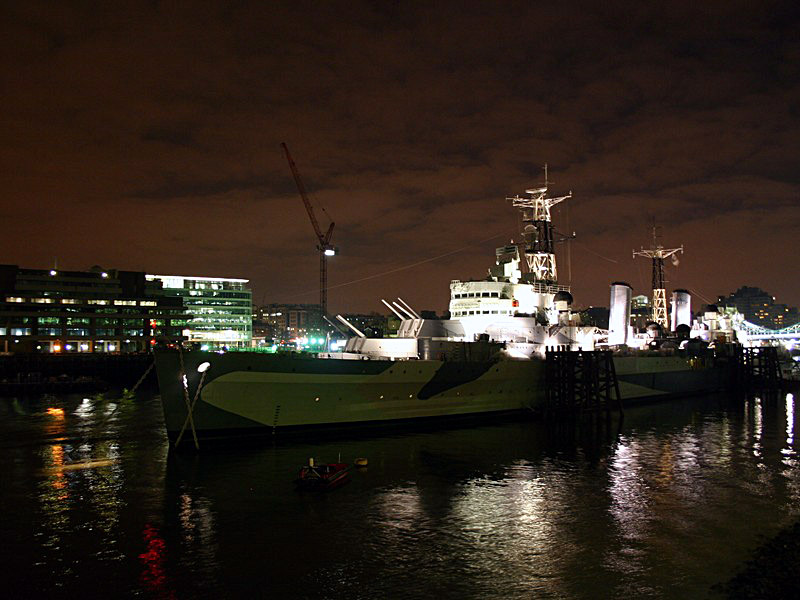 So that was it, a great 2 days, we took in numerous lectures and equipment stands, one worth doing again.
11th March 2012
Stand at the Limerick Radio Club Exhibition
The club had a stand at the Limerick Radio Club Rally at the Radisson hotel, Ennis Road, Limerick.
The event was pitched as a general Radio, Electronics and Hobbies Exhibition.
See www.limerickradioclub.ie for more details.
31st March 2012
Earth Hour
While not strictly a club event, Earth Hour is a world wide event that highlights the use of artificial light at night time. It promotes the intelligent thinking of the use of lights by asking everyone to turn off all non essential outdoor lights between 8.30pm and 9.30pm. Anyone who looks at the sky in a city will know what the effects of light pollution are.
See http://www.earthhour.org/ for more details.
1st-7th April 2012
Global Astronomy Month (GAM) 2012
The club ran a series of observing nights at O'Callaghans strand during the first week of April.
The planets Venus, Jupiter and Saturn were visible as well as several star clusters and the Moon.
We had club telescopes available at the event, many showed up to make this a super event.
See http://www.astronomerswithoutborders.org/global-astronomy-month-2012.html for more details of this world wide event.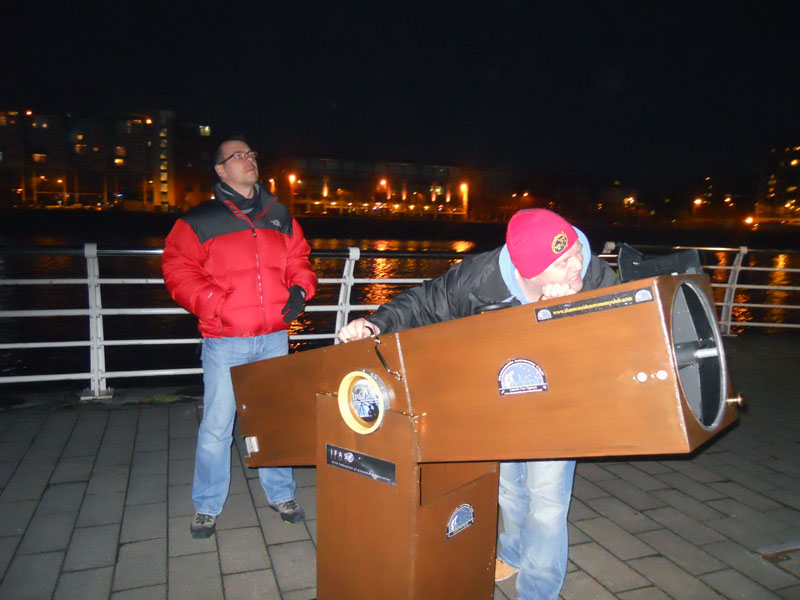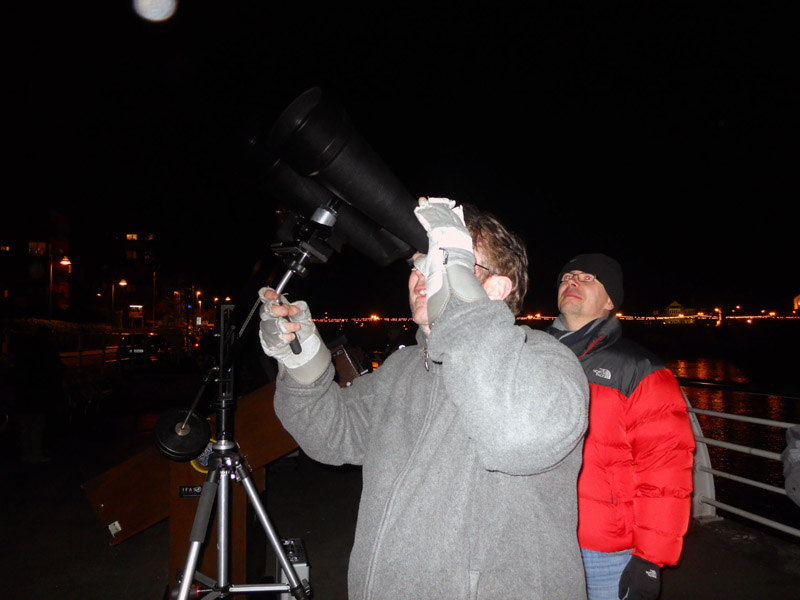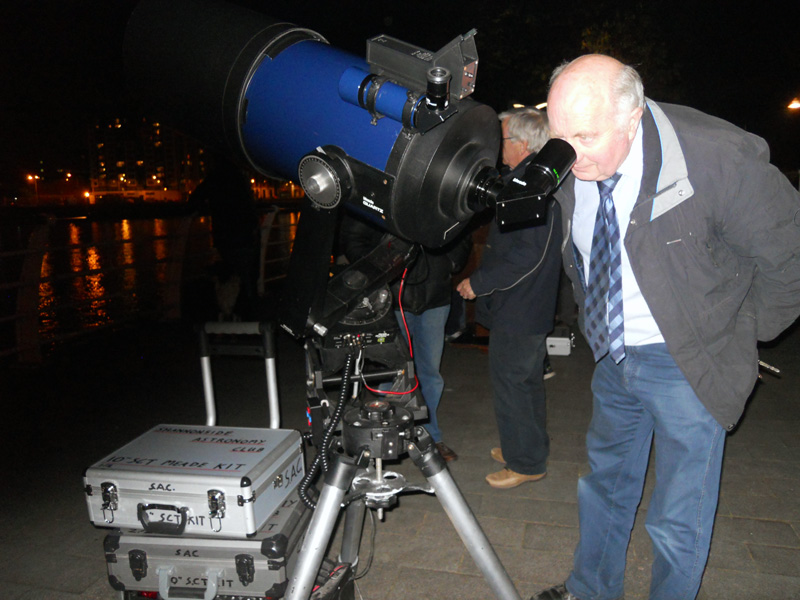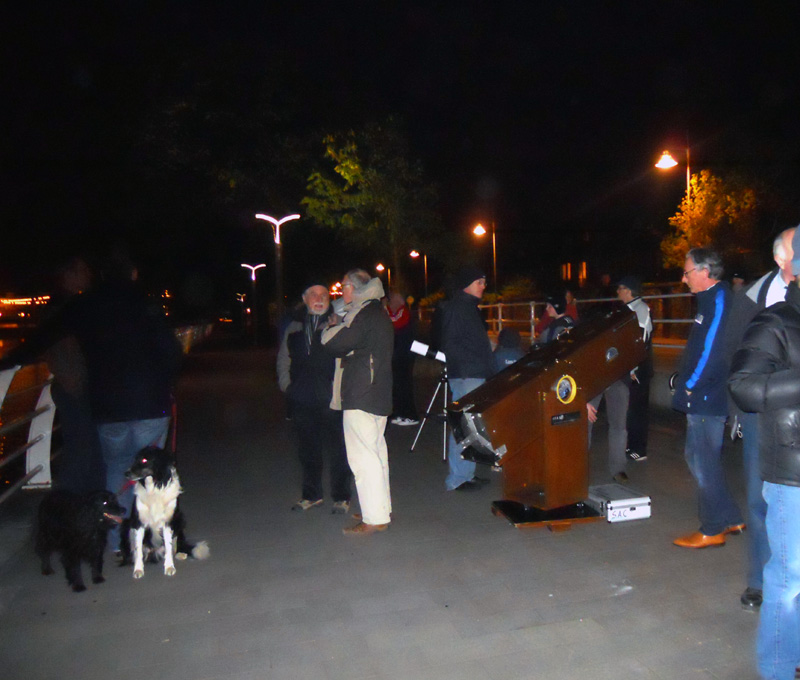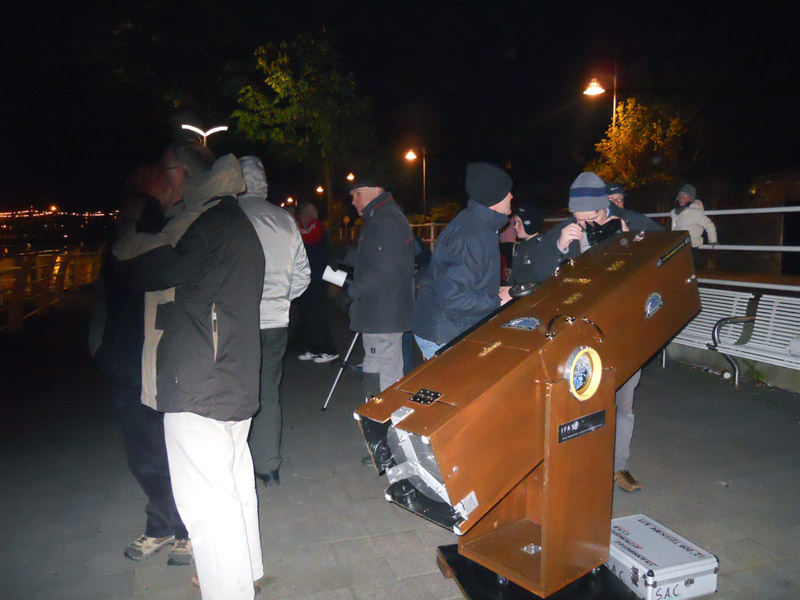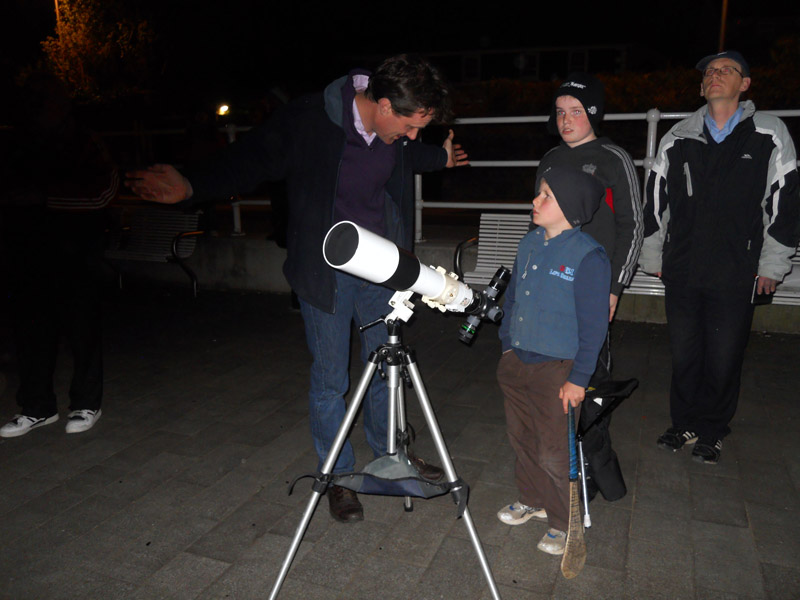 3rd May 2012
Club talk by Brendan Alexander (http://www.donegalskies.com/)
Brendan very kindly came all the way down from Donegal to give us a talk on widefield astrophotography, he showed many of his own images, went thorugh the equipment he uses and discussed many of his own experiences and exploits in the field.
It was a very entertaining and informative talk,we hope to meet up with Brendan again in the future
6th June 2012
Transit of Venus
The club had planned to do an early morning sunrise observing session to watch the last half an hour of the transit. Plan A was to go up to Garran point and gain an extra half an hour of observing time of the transit with the IAA. Plan B was to go to Skerries and gain about 15 minutes extra. Failing that we were to go to Tountinna mountain by Killaloe hoping that we'd be above any haze or fog. We got to Tountinna and found that the summit was in the the cloud layer. Unfortunately most of the country was clouded and very few people saw it, Using the web, it looked like it might clear towards Shannon, we got there and it was still cloudy, we didnt unpack the telescopes we had with us. So unfortunately this time around we didn't see any of the transit, unlike back in 2004 where club members saw most of it. The next one is in 2117, so if the club is around, maybe the then club observing director will try and hold an viewing session for it :)
The hardy club members who attended were Dave Lillis, Frank Ryan, Conan McDonald, Tom Walsh, Roy Stewart and Simon Kenny.
Club member Michael Johnson had to foresight to book a last minute flight to Oslo where he managed to observe the transit.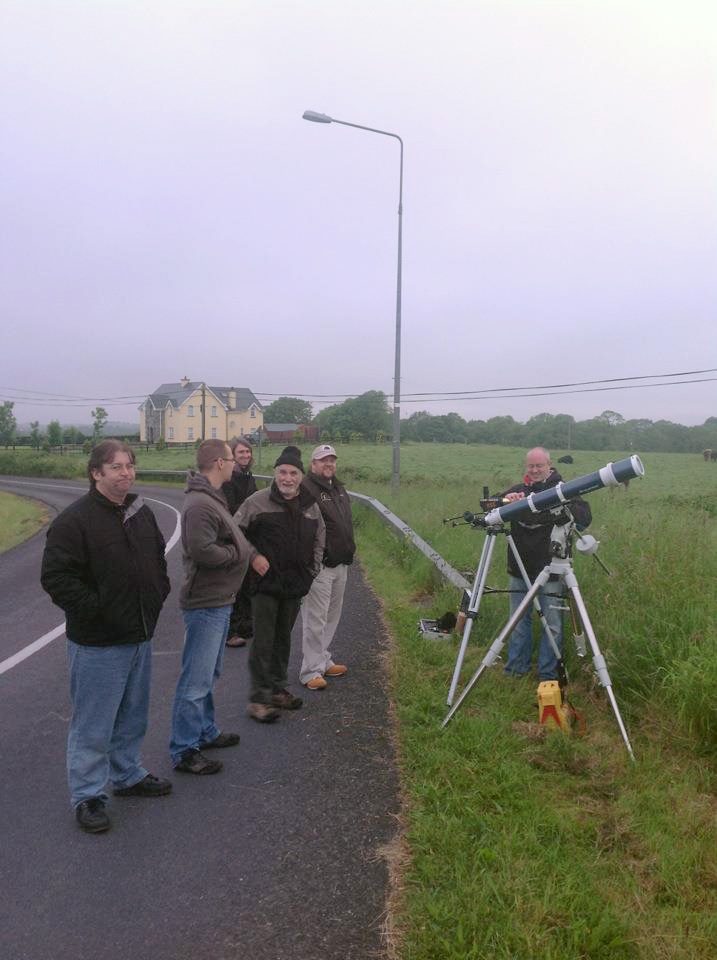 August - September 2012
Radio Interviews
The following interviews were organised to promote the Burren StarParty and International Observe the Moon nights, and discuss the recent death of Neil Armstrong, the first man to walk on the Moon. Limericks Live 95FM, Roy and Simon spoke to Gillian Devlon live on air at 9.40am on Wednesday the 29th of August. Tipp FM, Simon spoke to Tom Hurley on our upcoming events on Monday August 27th.
Clare FM, Roy will speak on this station in the week before the starparty
14th-15th September 2012
Burren Star Party (BSP2012)
The club held its annual years starparty up in the dolman carpark, in the Burren, county Clare.
The weather on Friday was indicating it might be clear, all we got were 5-10 minutes of clear skies at hourly intervals.
When it was clear, the milkyway was amazing, the constellations were lost in a blizzard of stars.
Saturday was clouded out, hopefully we'll have better luck as the year progresses with observing sessions.
For more details see here
22nd September 2012
International Observe the Moon night (IOM) 2012
The club held a public observing session in conjunction with the internationally run IOM2012 night.
Club telescopes were available at O'Callaghans strand in Limerick city. A number of passerbys got a good look at the Moon before it set, it was a good night and we look forward to running it again.
See http://observethemoonnight.org/ for more details
4th October 2012
John Flannery (SDAS), out of town speaker
Many thanks to John for coming down from Dublin and giving us a great talk on "The Outer Solarsystem", it was very informative and we look forward to having John down with us again
1st November 2012
John Keane (KAC), out of town speaker
John drived up to us from Tralee through treacherous weather conditions to give us a great talk on "The Hubble Space Telescope", many thanks John and we hope to see you again soon
11th December 2012
Dave Lillis on Limerick's Live95FM discussing the end of the world on December 12th or 21st.
Dave was on the Joe Nash morning show at 9.20 in the morning in a light hearted discussion about the Mayan calander, impending end of the world and how it could take shape, fun was had by all